Clad Chester

Age

18

Height

6'1

Gender

Male

Home

District 2

Weapon

Knife

Occupation

Tribute

Fate

Deceased
Clad Chester was the male tribute from District 2 who competed in the 65th annual Hunger Games.
During training Clad was noted as being suicidal by Trifecta, the female tribute from District 1. Clad would play with knives and sometime purposely cut himself. He was hoping that volunteering for the Hunger Games would not be as bad as killing himself back home in District 2.
The Hunger Games
Edit
During the Games, Clad was killed by Beck, the male tribute from District 1. He died in the opening Bloodbath.
Clad's pedestal was near the forest and he was preparing to run, but when the gong rang, he was too busy observing the cuts on his wrists. It took him a few seconds to realize the Games had started. He began running, but Beck was already running toward him with a knife that was already bloody. Clad was tackled, and before Beck stabbed him 18 times, he yelled, "How do you like knives now?"
Description
Edit
Clad is noted being skinny and having short brown hair. He seemed to be fairly nicer and more open to his district partner, nicknamed Liar, than anyone else is the Games. Trifecta decided that he had a crush on Liar, but really, Liar was trying to form another fake alliance.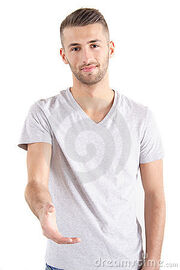 Community content is available under
CC-BY-SA
unless otherwise noted.