Beck Statter

Age

18

Height

6'2

Gender

Male

Occupation

Tribute,canner

Weapon

Spear

Fate

Deceased
Beck Statter was the male tribute from District 4 who competed in the 65th annual Hunger Games.
During training Beck only practiced with spears. This is suspected because he was from District 4. Each time Beck threw a spear at a dummy it would hit it in the chest. Sometimes he would throw both heavy and light spears at targets and hit them dead on in the center. Because of Beck's ability to do this, he earned a friend and an ally who's name was Fred Griph, the male tribute from District 1.
The Hunger Games
Edit
During the Hunger Games, Beck was able to kill Clad Chester, the male tribute from District 2 because Clad was suicidal. He killed more tributes whose districts are unknown. He was the first tribute ever that didn't take along a token into the arena.
Beck's death is unknown, but it is inferred that he was killed by Fred, because he slapped Trifecta Partmoon, the female tribute from District 1, who was Fred's girlfriend.
Description
Edit
Beck is described as a sexy, handsome male with brown hair. During the reaping replays, Trifecta rolled her eyes at his volunteering, chin high in the air and "manly walking" to the stage with confidence and an obvious hope for sex appeal. She remarked it as being a slef-promoting scheme. Before the actual Games in the arena, he was also noted to be mysterious by Caesa during the tribute parade. Caesar also made a sly remark, saying:
"Hm, this young, handsome man reminds me of someone Claudius... Me of course!"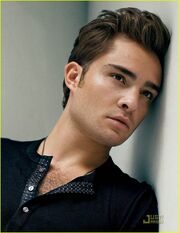 Community content is available under
CC-BY-SA
unless otherwise noted.